The area of Dodge City and Ford County, Kansas has had a long history of supplying the right needs for industry from the early cattle drives to today's agricultural, energy, and manufacturing markets.  Ford County currently has two of the world's largest beef processing facilities, National Beef and Cargill Meat Solutions, and four of the state's major wind farms. It is also been ranked in the top 10 "Least Economically Stressed Counties" in the United States by the Associated Press and has become a growing center for the energy and tourism industries.  Dodge City and Ford County offer businesses a hardworking labor force, high quality of life in the community, and lower costs of living.
Population
The following demographics statistics are sourced from the Census Factfinder website. Statistics are from the 2009-2013 American Community Survey.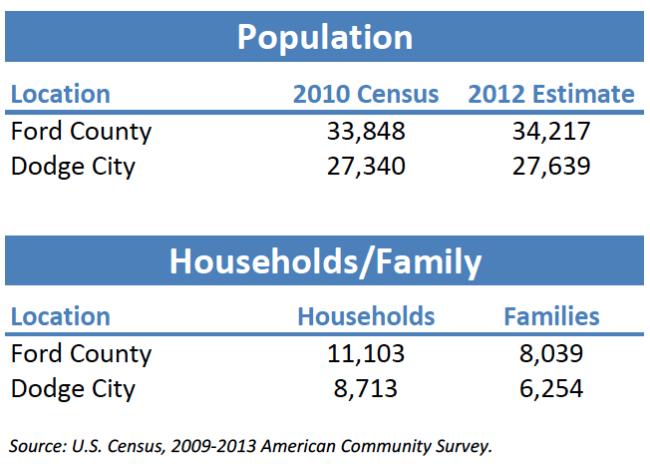 Education
Dodge City Public Schools – USD 443
USD 443 provides primary and secondary education in Dodge City and Ford County. USD 443 2014-2015 pre-kindergarten through 12th-grade enrollment exceeds 6,915 students. www.usd443.org
Sacred Heart Cathedral School
The Sacred Heart Cathedral School is a private Catholic school that serves elementary through 8th grade students. The school is overseen by the Roman Catholic Diocese of Dodge City.
Bucklin Schools – USD 459
The Bucklin school system consists of Elementary (PK-5), Jr. High and High School (9-12). USD 459 offers the Eldon Fetter Scholarship to graduates of the Bucklin High School. With this scholarship the recipient is awarded $500 to be used towards a college or university.
Spearville School District – USD 381
Spearville school system, K-12, is well known for its high academic and strong sporting activities. USD 381 has a student population of 354. Spearville High School is nearing completion of an $8.6 million expansion.
Dodge City Community College
Dodge City Community College provides two-year academic and technical degree programs. The college is known for its nursing, construction technology, auto mechanics, welding, helicopter, lineman and food safety programs. The college also has agriculture, energy, pre-engineering, and business degree programs.
Branch Campus of Newman University
Newman University, a Catholic university based in Wichita, operates a branch operation in Dodge City. The campus currently offers 4-year and post graduate degree programs.
Health Care
The healthcare needs of Dodge City and Ford County are primarily taken care of by the Western Plains Medical Complex, private physician offices, and local health clinics. Western Plains Medical Complex is an accredited 99 bed hospital located in Dodge City. The hospital serves as a regional medical center for Ford County and neighboring communities.