The Community Housing Association of Dodge City (CHAD) had a volunteer paint day on March 25th. Volunteers painted the interior of a home at 1611 4th Avenue. I would like to thank Matt Baker, Bianca Alvarez, Xavier Hernandez, Alec Mendoza, Martha Mendoza, and Thien Huynh for donating their time to help paint. The volunteer tallied a total of 31 volunteer hours. Construction costs are minimized due to the help of local volunteers, enabling the remodeled homes to fall into the low to moderate-income range. This home sat vacant before being donated to CHAD. Once all renovations are completed in May 2016, the home will be listed for sale. The renovation of this home will improve the quality of the neighborhood, remove blight, and place the property back onto the tax role. CHAD will hold another volunteer paint day to complete the painting. If you, your business or organization would like to give back to the community by volunteering please contact Mollea Wainscott at 620-227-9501 or housing@dodgedev.org.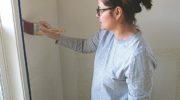 CHAD has a home for sale at 1011 E. Elm. This home was built in partnership with the Dodge City Community College (DCCC) Building Trades Program. This beautiful brand new home has 2 bedrooms and 2 bathrooms, sits on a corner lot, includes a crawl space accessed through a bedroom, and is energy efficient. The open floor plan provides a welcoming and relaxing space. Large windows allow natural light to stream in the living room and kitchen. Off street parking and a carport create a safe, covered area for you to park your car.
The goal of the Community Housing Association of Dodge City is to rehab two vacant homes and partner with the DCCC Building Trades Program to build a new home every year. CHAD chooses to build new homes on vacant lots in blighted areas. Renovating older vacant homes and new builds in blighted areas creates neighborhood stabilization by improving the quality of the neighborhood, removing blight, and reducing crime that comes with vacant houses. Partnering with the Building Trades Program allows students to gain hands-on experience, learn energy efficiency, code compliance, and working conditions, while allowing them to experience community development.
Currently CHAD is looking for abandoned houses. Donating real estate to CHAD will allow you to experience philanthropic giving, secure a meaningful tax donation, and free yourself from a financially hindering property holding. The Community Housing Association of Dodge City is a non-profit 501 c 3 organization established to facilitate all levels of housing for citizens of our community and members of our work force.